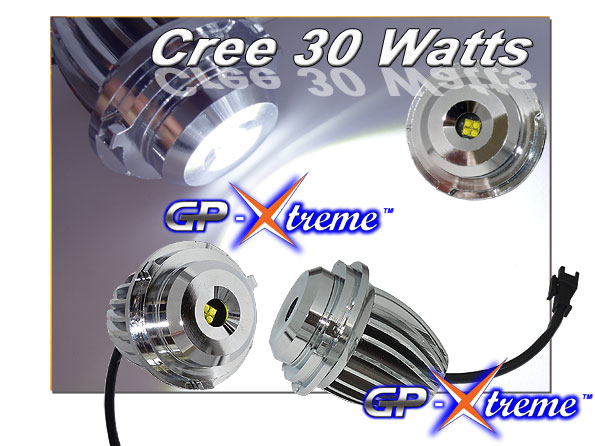 Brand New
4 Super White 60W Cree LED Angel Eyes Converter Kit
No OBC Error. No Bulb-Out Warning Message
Color: Super White 6000K 12V
Our 6000K Bulbs are much brighter, whiter and match your HID headlight.
This is the Best and Newest LED you will ever own!!
---------------------------------------------------------------------------------

2004 ~2007 BMW 5-series E60 (520d,520i,523li,523i,5235li,525d,525i M54,525i N52,525xi,530d m57N,530d M57N2,530i M54,530i N52 530xd 530xi 535d 540i 545i M5) without xenon head lamp
2006 ~ 2007 BMW 5-series E61 Touring (520d,523i,525d ,525i M54,525I M54,525i N52,525xi,530d M57N 530d M57N2,530i,530xd,530xi,535d,545i,550i)without xenon head lamp
Original Part Numbers:
E60/E61 - 63127165546

Replace your stock Yellow halogen angel eyes to a whiter and brighter output with GP XTREME latest CREE LED angel eye upgrade Kit.

GP XTREME has the full-bodied aluminum heat sink and ultra high-performance Cree LED chips that are not overdriven as seen with other competitors' offering. This allows for efficient cooling and a maximum LED output over an extended period of time without overheating, dimming and pre-mature failure.
CREE is a leader in the solid-state lighting industry in the brightness and efficiency of LEDs. The advantages are in the materials it uses with combined highly efficient In GaN materials and proprietary G•SIC® substrates to deliver superior performance for high-intensity LEDs.

CREE LEDs Feature:
• A single wire-bond connection
• Low forward voltage
• Low heat generation
• High ESD tolerance/resistance
• Ultra long life

Plug & Play Installation
Direct Swap.
No Wire Cutting.
No Modification Needed.
No Computer Error Message.